Geneva Real Estate Crowdfunding Forum
** English Text below **
Le « Geneva Real Estate Crowdfunding Forum » aura lieu le 7 décembre 2017, de 13.30 – 19.00, à la Fondation Louis Jeantet (voir carte), organisé conjointement par Swiss Crowdfunding Association et The Swiss Fintech Convention.
Cet événement sera marqué par la parution du 1er livre blanc consacré au Crowdfunding immobilier en Suisse.
Avec : Crowdli, Crowdhouse, Estate Guru, Foxstone, My Brick, SwissLending, etc.
** French Text above  **
The "Geneva Real Estate Crowdfunding Forum" will take place on December 7th, 2017 from 1.30 – 7.00 pm at the Fondation Louis Jeantet (view Map), organized jointly by the Swiss Crowdfunding Association and The Swiss Fintech Convention.
This event coincides with the publication of the first white paper dedicated to Real Estate Crowdfunding.
With : Crowdli, Crowdhouse, Estate Guru, Foxstone, My Brick, SwissLending, etc.
---
3rd #CrowdTuesday in Switzerland in partnership with the Swiss Crowdfunding Association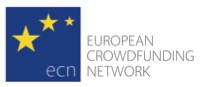 May 9, 14:00 – 17:00 CET
Glion Institute of Higher Education – 20 Rue de l'Ondine, 1630 Bulle, Switzerland – View Map
---
2 février 2017
FORUM Geneve -11-19, Rue de Lausanne 1201 Genève
---
Annual International Conference, CrowdFunding, Smart Finance and Appropriate Technologies for Peace and Sustainable Development
Dec 14, 2016
United Nations
---
Aristote définissait l'argent par 3 fonctions: unité de compte, réserve de valeur et intermédiaire pour les échanges. Avec la dématérialisation des supports monétaires, nos usages changent: si l'argent vivra encore longtemps, sous quelle(s) forme(s) va-t-il renaître? à quels changements nous attendre, au travail et dans le quotidien? et quelles alternatives à l'argent, sinon?
21 octobre 2016
HEG Genève, Route de Drize 7 – 1227 Carouge – 9:00 à 15:30
---
Que ce soit pour financer la campagne de Barack Obama ou encore pour pré-commercialiser le dernier modèle de Tesla, le crowdfunding est l'une des réalisations les plus visibles et accessibles de la fintech aux yeux du public.
L'avènement du crowdfunding ou financement participatif, a permis de stimuler l'innovation à l'échelle planétaire. On entend notamment souvent parler de Kickstarter, ce site qui a servi de plate-forme de lancement aux centaines d'innovation initiées sur Internet. Le crowdfunding est ainsi devenu un véritable phénomène de société.
Aujourd'hui le modèle le plus utilisé est celui du prêt entre particulier ou aux PME, sans recours aux banques. Lors de la Causerie du jeudi 20 octobre, Vincent Pignon nous présentera les enjeux de ce fondement de l'économie collaborative et nous fera découvrir des exemples à la fois concrets et marquants de l'histoire du crowdfunding en Suisse.
jeudi 20 octobre 2016 – 
à
Espace de la Muse, Rue de la Muse 2, Genève
---
Fintech Connect sur le Crowlending
Le prêt à l'heure du numérique, découvrez le P2P Lending !
– Marc Barbezat (Le décodeur) – Introduction, News & Trends
– Christian Marchand (Green IT Consulting) – Le P2P Lending dans le monde
– Vincent Pignon (Président Swiss Crowdfunding Association & Fondateur WeCan.Fund) – Le P2P Lending en Suisse et le P2P lending pour les PME
– Dominique Goy (Fondateur SwissLending) – Le P2P Lending immobilier
– Alexandre de Boccard (Ochsner & Associes) – La régulation du P2P Lending en Suisse
Date : 13 Septembre 2016, 17:00 – 20:00
Lieu : Fintech Fusion, 50 av de la Praille – 1227 Carouge
---
1st #CrowdTuesday in Switzerland in partnership with the Swiss Crowdfunding Association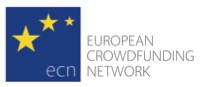 April 26, 14:00 – 17:00 CET
Glion Institute of Higher Education – 20 Rue de l'Ondine, 1630 Bulle, Switzerland – View Map
---
Soirée débat sur le crowdfunding
February 09, 18:30 – 22:00
Ecole Hoteliere Lausanne
Lausanne
---
November 18, 14:00 – 18:00
HEG Geneva
Geneva
---
Soirée de présentation du 1er Livre blanc sur le Crowdfunding en Suisse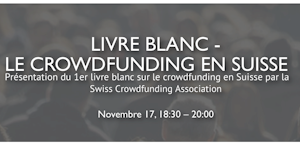 Venez à la rencontre des acteurs qui oeuvrent pour le Crowdfunding en Suisse et participez à la présentation du 1er livre blanc sur le crowdfunding en Suisse dans le cadre de la Semaine Mondiale de l'entrepreneuriat
18:00 – 18:30  Inscriptions
18:30 Programme
Introduction – Dr Vincent Pignon, Président de la Swiss crowdfunding Association
Perspective légale du Crowdfunding en Suisse – Alexandre de Boccard, Ochner & Associés
Propriété intellectuelle et Crowdfunding – Anca Draganescu-Pinawin, Novagraaf
Challenges et opportunités du crowdfunding en Suisse – Maxime Pallain, Raizers
Témoignage d'Impact Hub Geneva sur sa campagne de crowdfunding – Amanda Byrde
Table ronde et discussions animées par Jonathan Normand, co-fondateur & Board Member de la Swiss crowdfunding Association
20:30 Cocktail
Date : Novembre 17, 18:30 – 20:30
Lieu : Impact Hub Geneva
Geneva
---
October 8, 14:00 – 18:00
Registration : Link
Geneva
---
October 5,  19:00
Registration : Link
Fribourg
---
September 19,  14:00 – 15:50
Registration : Link
Geneva
---
September 17,  8:00 – 9:15
Registration : Link
CNCI Rue de la Serre 4 2000 Neuchâtel
---
July 1,  14:00 – 15:30
Registration : Link
IMD, auditoire M100, Bellerive 34, Lausanne
---
June 26,  8:00 – 10:00
Registration : Link
World Trade Center, Avenue Gratta-Paille 2, 1000 Lausanne 30
---
June 5,  8:00 – 12:00
Buy Tickets : Link
Morges Casino
---
With Jacques Billy (BAS), Christian Kramer (UBS), Hervé Lebret (EPFL), David Narr (Genilem), Vincent Pignon (HEG)
June 3, 14:00- 15:00
Palexpo (www.ephj.ch)